We searched throughout Arabia for authentic traditional sweets. In Damascus, we discovered recipes perfected by generations of cooks renowned for their delicious pastries. We brought them back with us to create these mouth-watering treats.
Using the freshest nuts and finest flour we have created the most fragrant flavours and lightest textures. All of our ingredients are natural; there are no additives or preservatives.
FINEST ARABIAN SWEETS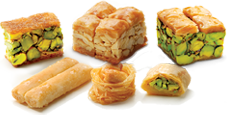 Our delicious authentic Arabian specialties are available from most major retailers across the region. We supply many prestigious hotels and airlines. For food service or export enquiries please contact our sales team who will be delighted to present the products in more detail.